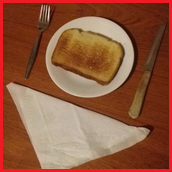 Rated "Crisp" by The Toasty Times
---
Welcome to Slighty Burnt Toast
Are you tired of paying upwards of $36 for meager crumbs at every other coffee shop downtown? Well, then step up to Slightly Burnt Toast where you can pick up breakfast for just $1! Click Here to see our full menu.
We might not be the classiest shop in town, I mean just look at this website - what is this, 1998? But, we do offer dirt cheap food that doesn't taste like dirt! I mean, what else could you possibly want? See what our customers think of us by Clicking Here.
So, if you're ready to experince next level mediocrity, then come down to Slightly Burnt Toast today! For directions to the restaurant, Click Here. Or, if you would prefer delivery, then Click Here to place an order online or call us collect at 123-456-7890. Orders must be within 0 miles of our location. NO EXCEPTIONS.